Carla Vacchi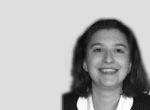 Academic position
: Assistant Professor
Office
: Piano F
E-mail
:
carla.vacchi@unipv.it
Phone
: +39 0382 98.5216
Fax
: +39 0382 422583
Research area
: Microelectronic analog and digital circuits for low power signal processing. Design of test systems for electronic circuits, custom electronic instrumentation for innovative opto-electronic devices and lasers, opto-electronic instrumentation for biomedical applications and embedded digital systems for industrial applications
Research group
: n.d.
Website
:
www.unipv.it/vacchi/
Carla Vacchi was born in Sant'Angelo Lodigiano, Italy, in 1963. She received the Laurea degree in Electronic Engineering, summa cum Laude, from the University of Pavia, Italy, in 1987, and the Ph.D. degree in Electronic and Computer Engineering with a research on CMOS A/D and D/A Converters, in 1992. Since 1993 she is assistant professor at the Department of Electronics of the University of Pavia. Her current interests are focused on analog and digital integrated circuit design (full custom and semi custom), and on electronic instrumentation based on microcontrollers and FPGAs for lasers and opto-electronic devices, and embedded systems for biomedical and industrial applications. Carla Vacchi is responsible for a project for teaching STEMs in schools.
Previous page