Danilo Manstretta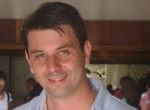 Academic position
: Assistant Professor
Office
: 2nd Floor (Edificio Segreterie)
E-mail
:
danilo.manstretta@unipv.it
Phone
: +39 0382 98.5943
Fax
: +39 0382 42.2583
Research area
: Analog integrated circuits for wireless, RF and millimeter-wave applications.
Research group
:
Microelectronic Laboratory
Website
:
www-3.unipv.it/microlab/drupal-5.3/?q=danilo
Danilo Manstretta received the Laurea degree (summa cum laude) and the Ph.D. degree in Electrical Engineering and computer science from the University of Pavia in 1998 and 2002, respectively. During his studies, he worked on CMOS RF front-end circuits for direct-conversion wireless applications.
From 2001 to 2003 he was with Agere Systems as a Member of Technical Staff, working on WLAN transceivers and linear power amplifiers for base stations. From 2003 to 2005 he was with Broadcom Corporation, Irvine, CA, working on RF tuners for TV applications. In 2005 he joined the University of Pavia as an Assistant Professor and was granted tenure in 2008.

Dr. Manstretta is a member of the Technical Program Committee of the IEEE Radio Frequency Integrated Circuits (RFIC) Conference since 2006. He was co-recipient of the 2003 IEEE Journal of Solid-State Circuits BEST PAPER AWARD.
Previous page