Giancarlo Ferrari Trecate
Giancarlo Ferrari Trecate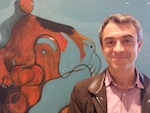 Academic position
: Associate Professor
Office
: Floor F
E-mail
:
giancarlo.ferrari@unipv.it
Phone
: +39 0382 98.5791
Fax
: +39 0382 98.5373
Research area
: My research interests include plug-and-play control, control of microgrids, distributed control and state estimation, control of multi-agent systems, modeling and analysis of biochemical networks, hybrid systems and Bayesian learning.
Research group
:
Laboratorio di Identificazione e Controllo dei Sistemi Dinamici
Website
:
sisdin.unipv.it/lab/personale/pers_hp/ferrari/welcome.html
Giancarlo Ferrari Trecate received the M.Sc. degree in computer engineering and the Ph.D. degree in Electronic and Computer Engineering from the of the Universita' degli Studi di Pavia, Italy, in 1995 and 1999, respectively. Since November 2005, he is an Associate Professor at the Dipartimento di Ingegneria Industriale e dell'Informazione of the Universita' degli Studi di Pavia. In spring 1998, he was a Visiting Researcher at the Neural Computing Research Group, University of Birmingham, U.K. In fall 1998, he joined the Automatic Control Laboratory, ETH, Zurich, Switzerland, as a Postdoctoral Fellow. He was appointed Oberassistent at ETH, in 2000. In 2002, he joined INRIA, Rocquencourt, France, as a Research Fellow. From March to October 2005, he worked at the Politecnico di Milano, Italy.
Previous page