Lodovico Ratti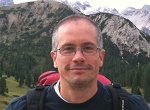 Academic position
: Associate Professor
Office
: Electronic Instrumentation Laboratory, Floor D
E-mail
:
lodovico.ratti@unipv.it
Phone
: +39 0382 98.5222
Fax
: +39 0382 42.2583
Research area
: Front-end electronics for radiation detectors. Noise and radiation tolerance in electronic devices and circuits.
Research group
:
Laboratorio di Strumentazione Elettronica
Lodovico Ratti graduated (summa cum laude) in Electronic Engineering in 1996. After joining the Electronic Instrumentation group, he received the Ph. D. degree in Electronic, Electrical and Computer Engineering in 1999. Since 2001 he is an Assistant Professor at the Electronics Department of the University of Pavia. His main research interests are in the fields of the design of monolithic detectors and mixed-signal circuits for the readout of radiation detectors, the characterization of advanced microelectronics processes (mainly CMOS technologies) from the standpoint of electronic noise and radiation tolerance and the development of instrumentation for electronic device and circuit characterization. Lodovico Ratti is a Senior Member of the IEEE and is author and coauthor of more than 150 papers published in international journals and conference proceedings.
Previous page