Marco Porta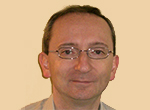 Academic position
: Associate Professor
Office
: Computer Vision and Multimedia Lab (Lab. Visione Artificiale, piano D)
E-mail
:
marco.porta@unipv.it
Phone
: +39 0382 98.5486
Fax
: +39 0382 98.5373
Research area
: Human-Computer interaction, vision-based perceptive user interfaces, eye tracking, visual languages, e-learning, usability, accessibility.
Research group
:
Laboratorio di Visione Artificiale
Website
:
vision.unipv.it/people/porta/
Marco Porta is an associate professor specializing in Human-Computer interaction, with particular reference to eye-tracking applications, vision-based perceptive interfaces, visual languages, e-learning technologies, user-centered interface design and multimedia interfaces (including web design, usability and accessibility). He received the Dr. Eng. (Master) degree in Electronic Engineering from the Politecnico di Milano (Milan, Italy) and the Ph.D. degree in Electronic and Computer Engineering from the Università di Pavia. He has published more than 70 articles in international journals, books and conference proceedings, and has participated in several national and international projects.
Previous page