Maurizio Bozzi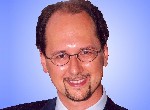 Academic position
: Associate Professor
Office
: Piano F
E-mail
:
maurizio.bozzi@unipv.it
Phone
: +39 0382 985782
Fax
: +39 0382 422583
Research area
: Numerical methods for the electromagnetic modeling and design of microwave and mm-wave components. Substrate integrated waveguide (SIW). Eco-friendly materials and technologies for green microwaves.
Research group
:
Microwave Laboratory
Website
:
microwave.unipv.it/bozzi
Maurizio Bozzi received the Ph.D. in Electronics and Computer Science from the University of Pavia (Italy) in 2000. In 2002 he joined the Department of Electronics of the University of Pavia, where he currently teaches the courses of "Antennas and Propagation" and of "Computational Electromagnetics." Prof. Bozzi held research positions in various universities worldwide, including the Technische Universitaet Darmstadt (Germany), the Universitat de Valencia (Spain) and the Ecole Polytechnique de Montreal (Quebec, Canada). He was the General Conference Chair of the IEEE International Conference on Numerical Electromagnetic Modeling and Optimization (NEMO2014). He was the co-recipient of the 2014 Premium Award for Best Paper in Electronics Letters. He authored or co-authored more than 75 journal papers and more than 190 conference papers.
Previous page