Rinaldo Castello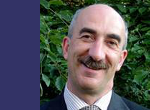 Academic position
: Full Professor
Office
: Piano F
E-mail
:
rinaldo.castello@unipv.it
Phone
: +39 0382 98.5213/.5227
Fax
: +39 0382 98.5583
Research area
: Analog and Mixed Signal integrated circuits design, Integrated Radio Frequency Systems
Research group
:
Microelectronic Laboratory
Website
:
microlab.unipv.it/italiano/castello_ita/rinaldo_castello_ita.htm
Rinaldo Castello graduated from the University of Genoa and received the M.S. and the Ph. D. from the University of California, Berkeley where he was Visiting Assistant Professor from '83 to '85. In '87 he joined the University of Pavia where he is now Full Professor. He consulted for ST-Microelectronics, up to 2005. In '98 he started a joint research centre between Pavia and ST and was its Scientific Director up to '05. He promoted the arrival of IC companies in the Pavia area including Marvell for which he is now consulting. He has been in the TPC of ESSCIRC since 1987 and of ISSCC from '92 to '04. He was Technical Chair of ESSCIRC '91 and General Chair of ESSCIRC '02, Associate Editor of the IEEE J.S.S.C. from '94 to '96 and Guest Editor of the July '92 issue. Prof. Castello was Distinguished Lecturer of the IEEE SSCS, one of the outstanding contributors for the first 50 years of ISSCC, received the Best Paper Award at the 2005 Symposium on VLSI and is an IEEE Fellow.
Previous page