Silvano Donati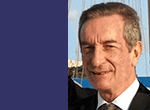 Academic position
: Contract Professor
Office
: Piano F
E-mail
:
silvano.donati@unipv.it
Phone
: +39 0382 98.5204 /.5224
Fax
: +39 0382 98.5583
Research area
: n.d.
Research group
: n.d.
Website
:
www.unipv.it/donati/
Dr Donati is a IEEE LIfe Fellow and OSAMeritorious Fellow. Full Professor since 1980. Has been Visiting Professor at NTU (Taipei) NSYSU (Kaohsiung) NCVKU (Tainan), NCHU (Taichung), Universidad Catolica del Peru (Lima). Author of 2 books published by Prentice Hall, Photodetectors (2000) and Electrooptical Instrumentation (2004), this last translated in Chionese and with India and Kindle editions. H factor: 27. Inventor of the Self-mixing technique of interferometry and of CSK scheme of chaos cryptography. Seminal papers on these two topics have collected 2500 citations.
Previous page