Tullio Facchinetti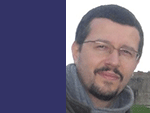 Academic position
: Assistant Professor
Office
: Laboratorio di Robotica (piano C)
E-mail
:
tullio.facchinetti@unipv.it
Phone
: 0382-985517
Fax
: n.d.
Research area
: Real-time operating systems, embedded systems, energy efficiency, home/building automation, cyber-physical systems and autonomous robot navigation
Research group
:
Laboratorio di Robotica
Website
:
robot.unipv.it/toolleeo
Tullio Facchinetti was born in Lovere (BG), Italy, in 1975. He graduated in Computer Engineering at the University of Pavia, Italy, in 2001. He got his PhD in Computer Engineering in 2005. From November 2007 he is Assistant Professor at the University of Pavia, working at the Robotics Laboratory. From 2002 to 2010 he participated to several Italian and European projects focusing on real-time operating systems and embedded systems for distributed applications. He is author of more than 30 papers on international refereed journals and conference proceedings. He was member of program committees and he chaired several tracks in international conferences and scientific events. He is an active organizers of scientific events. He serves as reviewer of several international journals.
Previous page