Valerio Annovazzi Lodi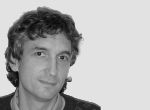 Academic position
: Full Professor
Office
: Piano F
E-mail
:
valerio.annovazzi@unipv.it
Phone
: +39 0382 98.5596 / .5224
Fax
: +39 0382 422583
Research area
: Injection phenomena and chaos in laser. Optical Cryptography. Micro-electro-mechanical systems (MEMS). Micro-opto-electro-mechanical systems (MOEMS). Study of epilepsy by nonlinear methods of analysis. Studies on human brain dynamics and language generation.
Research group
:
Laboratorio di ElettroOttica
Website
:
www.unipv.it/optoele/Annovazzi/annovazzi.html
Valerio Annovazzi-Lodi graduated in Electronics Engineering in 1979 and became a Full Professor in 2001. He is with the Department of Electrical, Computer and Biomedical Engineering, working in the fields of electronics and photonics. He is the author of more than 100 papers and holds four patents.
Previous page